Workers compensation fraud has been estimated to cost the nation billions of dollars each year. Claiming an injury that an employee does not have, or exaggerating the extent of their injury in order to file a Workers Compensation claim, can allow the worker to claim and receive workers compensation insurance that they are not entitled to.
If you operate your own business, are an insuranc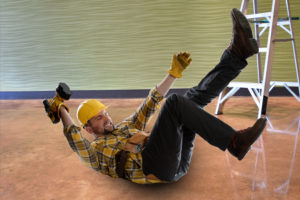 ecompany or agent, or are otherwise responsible for employees or workers, a Workers Comp Investigation can help ensure that each worker filing a Worker's Comp claim is entitled to the compensation they receive. This not only allows more money to be available for workers with legitimate claims, but it also helps limit the loss of man hours, losses to insurance companies and minimizes corporate losses to this type of fraud.
Palladin Consulting Group Investigators use a variety of techniques to uncover Workers Compensation insurance fraud:
Covert video/photographic and other types of surveillance are used to determine the veracity of claims made by an employee. Video and photographic Surveillance are one of the most powerful tools available to document potential evidence of fraud.
Traditional investigative strategies of Interviews and research to determine the extent of the worker's injuries are.
National records data base searches to determine whether a worker has filed compensation claims in the past or has been convicted of workers compensation fraud in the past.
Financial asset research, current employment research, civil and driving records research and evidence gathering that can help employers, insurance companies and legal counsel prosecute fraud.
All Workers Compensation Investigations by Palladin Consulting Group are approached with the expectation that the investigative results may be presented before a state workers compensation board or in a court of law. Palladin Consulting Group understands the importance of ensuring that our clients are shown to have conducted a thorough investigation in a professional neutral manner and that all evidence obtained follows established rules of evidence and with respect to individual rights of privacy.
Covert surveillance in workers' compensation and personal injury matters can:
Determine the extent of the injuries in question.
Uncover outside activities that may have contributed to or caused the injury.
Expose undisclosed employment.
Provide incontrovertible video evidence of the claimant or plaintiff's physical abilities.
All licensed investigators of Palladin Consulting Group, Inc. are former law enforcement officers who are trained and experienced to legally conduct covert surveillance at any time, in virtually any type of environment and can overcome the most challenging conditions to capture video or still photography essential to proving criminal Workers' Compensation fraud.
Palladin Consulting Group Investigators gather necessary evidence to offer remedies that may include both criminal and civil sanctions and presented to you, your insurer and your legal counsel in a usable, accurate and legal format.
Performing interviews and interrogations, related to Workers Comp investigations, is a critical aspect of the investigative process. Palladin Consulting Group brings to bear over 120 years of combined investigative experience with an unrivaled expertise. The investigators of Palladin Consulting Group, Inc. have not only received specialized training in all aspects of interview and interrogation, but have conducted thousands of successful interviews and interrogations leading to the development of new evidence from witnesses and incriminating statements from those guilty of wrongdoing.